Trieste - Live the Past, Experience the Future
With facilities capable of serving the largest of vessels with natural draughts up to 18 metres, excellent accessibility, outstanding road and rail connections, proximity to the rapidly growing economies of Central and Eastern Europe, Trieste is an efficient and competitive free port of call.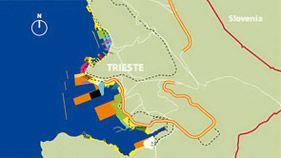 Activities
The port offers services for all types of traffic: containers, RO-RO – Ferries, passengers (cruisers, ferries and fast vessels), agri-food produce (cereals, fruit, coffee and refrigerated products), miscellaneous goods, project cargoes, cements, mineral oils, bulk products, iron and steel products, oil products and by-products, industrial products, chemicals. Shipbuilding, ship maintenance and refitting are also available.
2,300,000 m2, of which 1,800,000 m2 are a free zone
425,000 m2 of open storage area
500,000 m2 of covered storage
12 km of quayside
Berths with depths up to 18 m
More than 20 well-equipped specialised terminals capable of handling every type of cargo
Passenger terminals located in the heart of the historic city centre
Autorità Portuale Trieste
Via Von Bruck 3
34143 Trieste
Tel. +39 040 6731
Fax: +39 040 6732 406
protocollo@porto.trieste.it