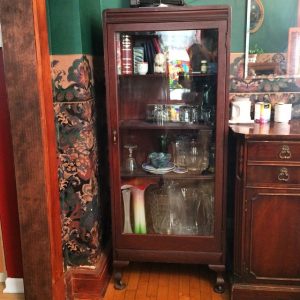 Antiques are collectable items like works of art or pieces of furniture that have high value due to their considerable age. In addition to age, there are other factors that are considered when assigning value to an item, including personal emotional connection, utility, condition, rarity, beauty, and other unique features.
Pinner Qing Dynasty Vase ($80.2 Million)
This vase is by far the most expensive antique  in the entire world. The Pinner Qing Dynasty Vase contains sky-blue, pastel yellow, and gold decorations, along with 4 motifs that include flowers and fishes. In addition, the imperial seal is displayed on the vase and thought to have been created for Emperor Qianlong. He reigned from 1736 to 1795. It was first believed to be a good replica and assigned a value of just $1,000. After it was re-evaluated, it was determined that the vase was authentic and reappraised at $1 million. There were 18 of these vases, but this the only surviving one. It is still a big mystery how the vase made it from China to London.
In 2010 the vase was exhibited in the United Kingdom to be sold in an auction, and due to its rareness, history, beauty, and purity, the bidding went out of control, and was sold finally for a price of $80.2 million. The sale brought $29 million to the original consigner.
Badminton Cabinet ($36 Million)
One of the most expensive antiques in the world that have been sold is a Badminton cabinet that was made during the Medici dynasty in Florence. It took 6 years to create this cabinet and was made by 30 craftsmen. This cabinet is decorated with a number of precious stones including ebony, amethysts, and laps Lazuli, along with semi-precious gems. It is considered to be among the finest French furniture pieces. This 12-foot tall cabinet contains a clock with its numbers in the form of fleurs-de-lis as well. This antique piece of furniture set records twice for being the most expensive sale. The cabinet sold for $16.6 million in 1990 and sold for $36 million in 2004. The cabinet is on public display at its current owner's location, the Lichtenstein Museum.
Leonardo da Vinci Codex Leicester ($30.8 Million)
This codex was named for the earl of Leicester. In 1719 he bought the document. The codex is a collection of Leonardo da Vinci's scientific writing and considered to be his most significant and famous work. This codex is also considered to be an elaborate scientific work and contains musings, sketches, and theories on geography, astronomy, and elements of several different scientific subjects. All of the subjects contained in this document have the signature of da Vinci, proving its authenticity. Billy Gates purchased the codex in 1994 at a Christie's auction.
Olyphant Battle Horn ($16.1 Million)
This hunting horn is from the 11th century and was handcrafted out of carved ivory with detailed motifs as decorations. The battle horn is fully functioning and made out of an elephant's tusk. It is carved with hunting animal motifs, which include deer, ducks, and rabbis. It was sold at a private Scandinavia auction for $16.1 million. It is extremely rare, with only six of these horns in existence in the entire world.
White Porcelain Moonflask with Blue and Pink Enamel ($15.1 Million)
This flask is one of the most expensive antiques in the world. It was handcrafted during the 18th century but exudes the nature and essence of the 15th century. The Moonflask is enamelled in white, blue, and pink, featuring a unique 6 character Qianlong mark. The flask's handles feature a dragon scroll design with the mouth ringed by a ruyi band. The last time the Moonflask was sold was in 2010 at an auction in Hong Kong for $15.1 million.
Visit Daisy's Tea Room to view more antiques in comfortable surroundings.