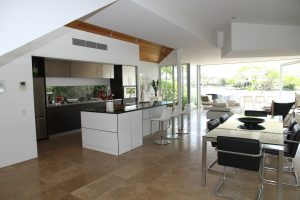 If you are looking to spice things up in your home using a stylish showpiece, then the best place is the kitchen. When home-buyers are shopping around for homes, they look at kitchen space. You should also enjoy the bonuses of enjoying your home if you have the budget.
What Is the Cost of Remodelling a Kitchen?
The costs of renovating a kitchen can add up pretty fast, especially if you choose custom cabinets, spacious islands and quartz counters.
A 2018 Cost vs. Value Report from the Remodeling Magazine say for a kitchen of 200-square foot with an island, wood cabinets, a standard sink, laminate Zen Stone countertops and a faucet is going to cost about £48,000. This includes the cost of new appliances, flooring and lighting.
You can also end up spending much less or much more than that. If you choose a gourmet kitchen that comes with custom cabinets, granite countertops, a tile backlash and also built-in and commercial-grade appliances, you can expect to spend close to £96,000.
Budgeting for Renovations
A budget is the first step you are going to take when remodelling the kitchen.
How much are you planning to spend on cabinets? Are you going to have new light fixtures? Are you planning on getting new hardware? It is important to have a good plan that has details on the project, how much you are going to spend and how you will tackle it. This is going to help in staying on track during the remodel.
Three Budgeting Tips:
1. Commit the bulk of the budget on those things that you will not be replacing often – such as cabinetry and appliances.
2. Avoid over-improving your kitchen. It is not a good idea because you will not recover what you spend on the remodel – no matter how amazing it is – especially when the home becomes the most expensive in your neighbourhood. You should consider talking to a real estate agent who will help to determine the typical price in your neighbourhood.
3. Set aside 10–15% of the budget because unexpected costs are going to come. Most renovation projects usually cost more than expected.
When you have a budget in place, you will be able to make decisions about the project more confidently.
Ways of Saving Money on the Remodelling
Starting with a plan. This is one of the most important things when remodelling. There is nothing worse than installing new counters then realising you have to remove them so you can install a sink. Spacing out the project is okay, especially when you are doing some work yourself, but ensure you have done a lot of research. When you keep going back to what you have done, the costs increase.
You don't have to spend a lot of money to update your kitchen. If you want to improve your kitchen without spending a lot of money, then the tips below will help.
Painting or Refinishing the Cabinets. You can choose to paint or refinish the cabinets instead of getting rid of them. Are your cabinet faces looking old? Re-face them and you will be amazed at how great they look. You will spend a little more compared to painting, but it will cost you way less than replacing the cabinets.
You should not underestimate the Backsplash. Having a new backsplash in the kitchen can help in bringing together the colour palette, and it is going to cost you a few hundred pounds. You can do it yourself to save even more.
Painting the Appliances. If the colours of your appliances are dated but still in good condition, then you can take them to the local body shop to be painted. You can save you a lot of money by doing this instead of buying brand new ones.
Consider all flooring options. Vinyl flooring has become a good option for people on a budget because it is cheaper compared to slate or hardwood floors. You will be able to find styles that have a high-end finish look.